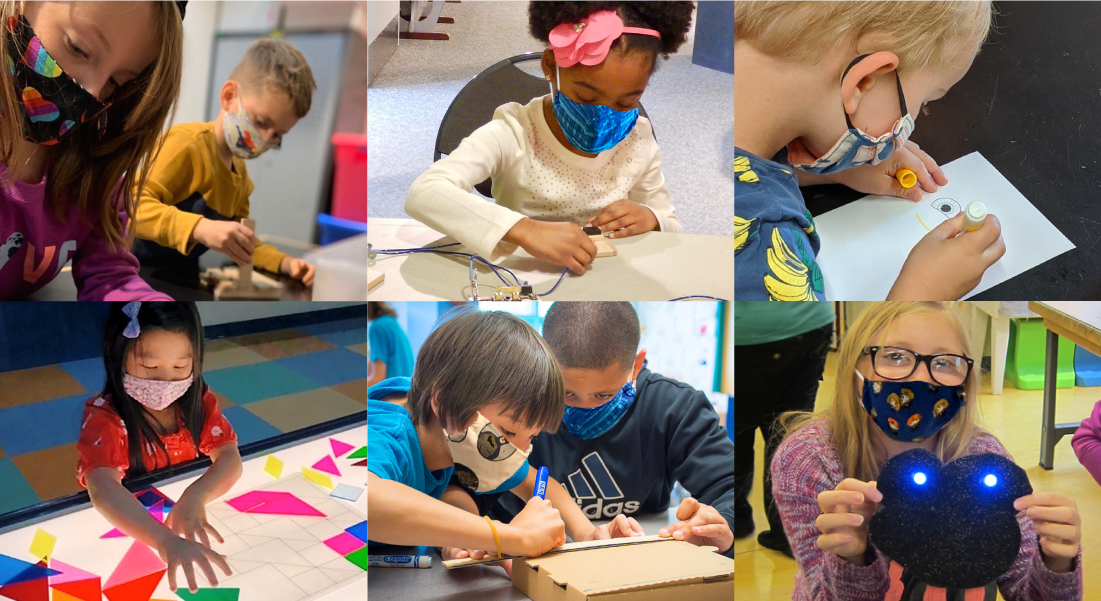 Explore, Discover, Create!
Explore It Enrichment Pods
Boston Children's Museum
Explore It Enrichment Pods
Hands-On Enrichment For Your Learning Pod
Boston Children's Museum is excited to offer Explore It Enrichment Pods; a new program that combines educator-led activities and Museum exploration! This six-week session will introduce a fun theme each week.
Themes:
In The Wild
In Your Imagination
In Outer Space
In the Construction Zone
In the Water
In the Human Body
Hands-On Activities
Participants will engage in many different types of hands-on activities throughout the program.
STEAM
Activities that incorporate Science, Technology, Engineering, Art, and Math principles.
Movement Breaks
Students in the enrichment pod will have movement breaks everyday, such as dancing and yoga.
Self Expression
Participants will have a chance to express themselves through writing, poetry, drawing, and music.
Themed Learning
All educator-led programming will follow themes, such as "In the Wild", "In Outer Space", or "In the Construction Zone."
Museum Exhibits
Students in the enrichment pod will get time to explore Boston Children's Museum everyday.
What are Enrichment Pods?
High-quality learning experiences for small groups
Learning pods have formed as a response to disruptions in schooling and childcare that have required families to come together in support of their children's learning in 2020. Let Boston Children's Museum educators take your learning pod to the lext level!
What is an Enrichment Pod?

Explore It Enrichment Pods are designed to provide hands-on and fun learning for small groups of children. Enrichment Pods are meant for groups looking for a safe meeting place, educator-led learning opportunities for hands-on exploration and play, and opportunities for grown-ups to take advantage of a few hours of high-quality childcare support at Boston Children's Museum.
When? Enrichment pods will register for 6-week sessions. Enrichment pods will be in the Museum from 2pm to 5pm every school day. If your needs differ, contact us.

How?

Please register on behalf of your learning pod by following this link. Once your pod is registered, we will reach out to individual families within the pod to provide further registration information and paperwork.

What if I'm not in a learning pod?

 No problem! Please contact us and we will do our best to help you join a pod at the Museum.
Why an Enrichment Pod?
Addressing the needs of children and families
Boston Children's Museum is aware of the challenges facing families in Boston and beyond. Explore It Enrichment Pods aim to offer:
Child Care

Afterschool, 2pm-5pm. Only one adult/caregiver is required to accompany each learning pod of up to 10 children.
Learning Through Exploration and Play Museum educators have created the Explore It Enrichment Pod activities with specific attention to the types of robust, hands-on exploration and play experiences that Boston Children's Museum is famous for.

Safety

 Enrichment pods will be given their own designated space to learn and interact with each other. Social distancing and masks are required. All Museum spaces are sanitized and all loose parts are cleaned multiple times each day.

Social/Emotional Learning Opportunities

 Students in 2020 need a safe space for them to return to some form of normal interaction – forming friendships and practicing teamwork.
Explore-It: Educator-Led Activities
A Day at a Glance
Each day will follow a similar structure
1
Explore Museum
The pod starts their day by playing and learning while exploring Museum exhibits.
2
Activity 1
The pod will have their first activity of the day. Each activity will follow a theme.
3
Movement Break
After the first activity, it's time for a quick break involving movement, exercises, stretching, breathing, and maybe even some dancing!
4
Activity 2
This is the second of two core activities, following a theme. The day will end with discussion and reflection.
Have a question? Email us!